HONORING BPD FALLEN OFFICER DEPUTY CITY MARSHAL ROBERT L. NORMAND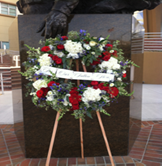 Tomorrow marks the anniversary of BPD Fallen Officer Deputy City Marshal Robert L. Normand, EOW 7/30/1920.
Deputy City Marshal Normand was shot and killed when he and a constable stopped a suspicious at the intersection of Third Street and Tujunga Avenue.

DeputyMarshal Normand had observed three men driving the vehicle at night with its lights off and requested assistance from the constable to stop it. Both officers were shot and Marshal Normand succumbed to his wounds.

The occupants of the vehicle were transporting illegal liquor at the time. Two men were apprehended and sentenced to life in prison. The 28-year-old gunman died in San Quentin Prison on January 17th, 1939.

Deputy Marshal Normand had served with the Burbank Police Department for almost 6-1/2 years.
As a BPOA tradition, a wreath has been placed at The Guardians statue in honor of our fallen hero. "It is not how these officers died that made them heroes, it is how they lived." by Vivian Eney Cross, Survivor.
We will always honor our heroes for their service and ultimate sacrifice they made to secure our safety.

Jay Hawver, President
Burbank Police Officers' Association